In 2003 I opened a shop on Danforth Ave. in Toronto's Riverdale neighbourhood, along with my business partner, hairstylist Marc Miltenburg. The company, then called Wash Up & Brush Co. was a hybrid business, combining  a full-service hair salon in the back of the space with a chic accessory and gift-ware shop up front.
This wasn't exactly a new concept. Most hair salons have a retail section where they sell hair products and some even stock a little jewellery but I wanted to create a full store connected to the salon, not just an afterthought retail corner. I also wanted to make the store open to the general public, anyone who wanted to shop in a cool little neighbourhood boutique, not just salon clients. So this is exactly what we created and it grew little by little into one of the most popular place in the Riverdale area.
But by early 2008 circumstances were such that we decided to remove the hair salon from the space and expand to full retail. The Wash Up & Brush Co. name was removed and the store was re-branded under the name Drysdale & Co in 2008. Then in late 2009 I launched our online store and was delighted to welcome a new customer base from around the world.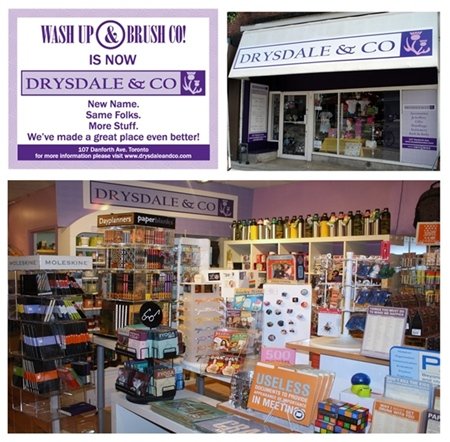 By late 2011, I decided that I was ready to take the company in a new direction again. The world of "bricks and mortar" retail had changed profoundly since the shift in the economy and I became increasingly interested in online retailing, the evolving world of the internet and the  in web design. I had designed and redesigned the websites for Wash Up & Brush Co. and Drysdale & Co. over the years, and I found that I really enjoyed working on the web as it was so suited to my skills and interests and a designer.
So now it's 2012 and I have recently closed the "bricks and mortar" store and shifted my focus to further developing the Drysdale & Co. brand online as well as offering web planning and design services. Over the past few years I have noticed a growing gap between those who have found a way to incorporate a functional website into their brand and those who have not yet. I have spoken to many people who know their brand needs to be connecting with customers online but are not sure where to start or what they should be doing. The good news is that it's never too late to get started and there are so many affordable options these days to help get every business online. I'm eager to use my experience with my own business to help others develop an effective online strategy and and execute a powerful website to showcase who they are to the world.
Interested in taking your business to the next level online? Contact me for more info.